UrbanForm is zoning de-coded.
Navigating the zoning code is costly, time-consuming, and error-prone.
​
Use UrbanForm to accelerate your zoning discovery process.
UrbanForm provides efficient, accurate, and verifiable zoning information, giving you the information you need in seconds, not weeks.
Uses AI to show you only the relevant regulations
Mobile or desktop with no software to download
Easy online map interface
Our mission:


better buildings, cities, and environments
UrbanForm was built by architects and engineers to provide instant, easy access to what was one of the most complex, confusing, and inaccessible aspects of building design and development—the zoning.
Skip the government websites, the map and document search, text interpretation, reference cross-checking, CAD drafting, copy-pasting, and phone calls to the building department.
Just use UrbanForm and get your project started right away with all the info you need.
Focus on designing, problem-solving, and consensus-building, not on zoning research
Win projects by responding instantly and knowledgeably to client inquiries

Focus work on design thinking and problem-solving

Avoid errors and omissions that can jeopardize projects and client relationships
How UrbanForm works
UrbanForm manages the process of sourcing, parsing, calculating, and documenting the relevant zoning regulations and building information—replacing a hodgepodge of manual and analog processes with one digital process.
​
Automatically generated, clickable links to the source documents save hours of text searching and copy-pasting, allowing easy verification and deeper research.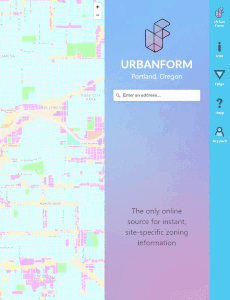 Search by address or by interactive map
Accessible from any web browser

No software to download

Mobile friendly
Review the applied zoning
FAR

Height limits

Setbacks

Lot coverage

All adjustments from overlays, adjacencies, and other location-based dependencies applied

Resulting MaxBuild statistics
Download Reports instantly
PDF format

Vector site maps

Satellite imagery

All detailed zoning information

Useful for valuation, feasibility, coordination, and collaboration
Search, filter, and sort by:
zone designation

maximum gross square footage allowed

minimum height limits

allowable uses

lot dimensions

lot type (such as corner, thru, etc.)

many other parameters
Accurate zoning information, instantly available, to facilitate development, design, and construction work
Every single construction project in the US requires accurate zoning information: for project development and feasibility, architecture and design, and permitting and compliance.
Previously, this information required hours-to-weeks worth of document discovery, interpretation, reference-checks, and CAD drafting. Now, with UrbanForm, this same information can be obtained instantly.
This allows the people who build our buildings and cities to get started faster, manage their projects better, spend less time reading arcane documents, and think more creatively about the future of our built environment.
Detailed Sources and References
Bonuses and Restrictions Explained
"

As one of my firm-wide goals is to prioritize a transparent and efficient process,

UrbanForm

is as important a tool as my CAD and 3D rendering software in articulating the final project

.

"
Jen Wright, Principal, Rallymade Architecture
For those who need one-time detailed zoning and building information about a single property
Detailed, site-specific zoning info, in PDF format
Zoning explanations, calcs, and source links
​
Static satellite maps, vector maps, and illustrations​
​
FAR, height limits, setbacks, coverage limits, and unit mins/maxs detailed
Best for Architects and Real Estate Professionals who need frequent access to detailed and advanced zoning and building info
Detailed, site-specific zoning info, available online
Zoning explanations, calcs, and source links available online
​
Interactive satellite maps, vector maps, and illustrations​
​
FAR, height limits, setbacks, coverage limits, and unit mins/maxs detailed online
​
Includes 5 free reports / month
UrbanForm is supported by startup partnership programs from: